Our Staff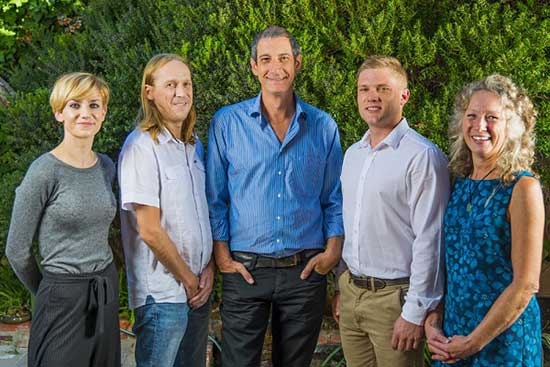 KERRY COLLINS – DirectorM.E d (Educational Psychology) (UJ) (HPCSA Reg. No. 0130516) Kerry has had first-hand experience as a supporter of an addict in Recovery. In addition, she has had experience working as a volunteer with adolescents at an inpatient rehabilitation centre, as well as facilitating support groups for families grappling with the addictions of their loved-ones.
Kerry has worked in the sphere of education since 1979. As an educational psychologist, her focus is on how development and learning of the individual can enhance the Recovery process, as well as integrating this into recovery in a holistic manner. She is passionate about finding a way to motivate each individual to realise his/her potential.
SHELLEAN JONES -
Dip. Counselling, SACAP
Shellean is the full-time House Manager and is responsible for administration, liaising with residents and overseeing the daily running of The Living House. Shellean embraces a holistic approach within the structure of the daily routine.
"While my employment experience has largely been in an administrative capacity, my passion lies in the personal development of individuals and families. As such, I undertook studies in Psychophonetics, Counselling and Communication Skills, and Rebalancing Massage and Meditation. I am very interested in the "interrelated-ness" of the body, mind, emotions and spirit in individuals, as well how this is mirrored or reflected in our worlds."
MIMI – Part-time Housekeeper
Mimi has the responsibility of helping keep the communal areas and house linen clean. Mimi has a quiet and gentle demeanour and takes pride in her work.
Art Teacher - Judy
Judy Moolenschot has had a number of careers. She trained as a nurse at Groote Schuur Hospital in Cape Town She subsequently qualified as a primary school teacher and taught until she left to have a family. She began studying for a Fine Art Degree at the age of 43 and began teaching basic part time Art Classes to adults to help pay for her studies. She has now been teaching adults for almost 30 years and has been a practicing
artist for 27 years.
Her great passion for all forms of creativity and her deep love for people has become her trademark! She believes that being creative has many more functions in life than simply making "pretty stuff". Her experience with teaching adults has revealed that people can discover their true identity and their own ' voice' in a deeply meaningful way through exploring difference materials and forms of expression.
Kyle Collins -
Managing Director
Kyle holds the position of Managing Director and is responsible for the quality of The Living House services. He has had experience working in various treatment centres, ranging from Primary Care , Sober Living, and Rehabs in the UK. He is exceptionally passionate about Addiction Recovery and views Recovery from a multi-dimensional perspective. His firm yet empathetic approach has assisted countless people in their Recovery process. Kyle is qualified as a Close Protection Officer including a First Responder in Emergency Care Level Three.
ROBERT (BOBBY) JEAN-JACQUES -
Psych Honours, UCT Coaching Certificate, Inner Life Skills Coach Course. Bobby is a professional Recovery Coach who facilitates weekly meetings with the residents and co-ordinates the case management of each resident in conjunction with the House Manager.
Bobby encourages clients in creating their own Integrated Recovery lifestyle, by exploring talents and strengths, addressing life skills gaps, stretching for goals and aspirations and, importantly, drawing up a comprehensive Recovery plan that covers all the bases.
Recovery Assistant - Simon
"I come from a background of nursing and addiction treatment in the UK and I am also an addict in Recovery after 25 years of addiction to alcohol and other drugs. I am approaching 4 years clean and sober and enjoying life in Cape Town. Working evenings as a Recovery Assistant is great for my own Recovery and I believe that helping people in early Recovery by simply being there and encouraging them is a key component to a successful and fulfilled Recovery from any addiction or associated illness."
Recovery Assistant - Jodie
"For a variety of reasons, I had developed unhealthy coping skills. About 3 years ago, as a consequence of an employee disciplinary process, I was introduced to NA through an outpatient Recovery programme. Slowly and reluctantly I set about implementing changes in my behaviour - changes that I initially could not see the benefit in. Now almost 3 years later, after being exposed to the right support structures, the tiniest flicker of hope became a flame that I keep burning through practising the NA program of Recovery and interacting and surrounding myself with other healthy Recovering addicts who share my passion for Recovery, and enjoying a life free from substance abuse.
I have reclaimed my life, my career and my integrity, and I practise spreading the message of Recovery, by being an example and sharing my story with suffering addicts, to demonstrate that any addict can stop using drugs and find a new way of life. I empathetically relate to others in Recovery and am passionate about supporting them in their effort to reclaim their lives too."